2LB BORAX 20 MULE TEAM NATURAL LAUNDRY DETERGENT BOOSTER & MULTI-PURPOSE CLEANER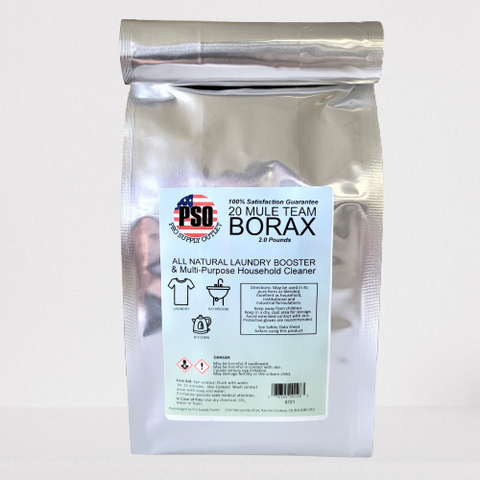 BORAX 20 MULE TEAM NATURAL LAUNDRY DETERGENT BOOSTER & MULTI-PURPOSE CLEANER. 2 LBS
100% Satisfaction guaranteed!!!
Free Shipping
BORAX 20 MULE TEAM:
Borax, also known as sodium borate, sodium tetraborate, or disodium tetraborate, is an important boron compound, a mineral, and a salt of boric acid. Powdered borax is white, consisting of soft colorless crystals that dissolve easily in water.
Uses:
Borax is present in some tooth bleaching formulas. Sodium borate is used in biochemical and chemical laboratories to make buffers, e.g., for gel electrophoresis of DNA, such as TBE or the newer SB buffer or BBS (borate buffered saline) in coating procedures. Borate buffers (usually at pH 8) are also used as preferential equilibration solution in dimethyl pimelimidate (DMP) based crosslinking reactions.
Household products:
Borax is used in various household laundry and cleaning products, including the "20 Mule Team Borax" laundry booster and "Boraxo" powdered hand soap. Despite its name, "Borateem" laundry bleach no longer contains borax or other boron compounds.
Carpet steam cleaning:
Borax 20 mule team work great as home& cars carpet cleaner it removes stains and unwelcome odors. CHECK THE VIDEO BELOW FOR QUICK TUTORTAL ON HOW TO STEAM CLEAN YOUR CARPETS WITH BORAX.